http://www.guardian.co.uk/world/2012/dec/30/india-gang-rape-un-call-action
India gang-rape victim cremated as UN chief calls for action to protect women
UN secretary general Ban Ki-moon urges Indian government to act urgently following death of 23-year-old Delhi student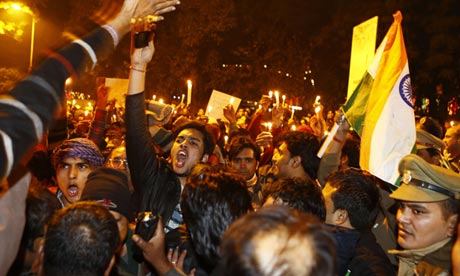 "Every girl and woman has the right to be respected, valued and protected," Ban said in a statement in which he welcomed efforts by the government but called for "further steps and reforms to deter such crimes and bring perpetrators to justice".
The intervention of the UN takes the fallout from the incident two weeks ago to a new level and underlines the damage it has done to
India
's international image, already battered by corruption scandals, a huge power failure earlier this year, and slowing economic growth.
The body of the still unnamed victim was cremated according to Hindu rites in Delhi shortly after dawn on Sunday. More details have emerged about her: the eldest of three children, she was reportedly a bright and funny independent woman from a humble background who impressed her tutors at medical college and taught schoolchildren in the family home, a one-bedroom flat, to help with finances. Her father is reported to be a loader at Delhi's airport.
Friends quoted by local media said she was planning to marry the 28-year-old male friend she was with when the attack took place.
The prime minister, Manmohan Singh, and Sonia Gandhi, the president of the ruling Congress party, met the plane carrying her remains from Singapore, where doctors had tried to save her life following 10 days of treatment in India. Singh and Gandhi, with other senior Indian politicians, have been criticised for their slow and high-handed response to the incident, which has generated outrage, grief and anger across India.
"It's been a huge challenge to all of them. They have seen the whole affair as basically a law and order problem. There has been no conversation. But that style of top-down politics is not going to work any more, particularly with young, aspirational urban people," Swapan Dasgupta, a Delhi-based analyst, said.
Figures published on Sunday revealed that despite 635 reported cases of rape and 745 arrests in Delhi this year, there has been only one conviction. A total of 572 rapes were reported to Delhi police in 2011, up from 507 in 2010, 469 in 2009 and 466 in 2008. The government has said it will bring in fast-track courts to accelerate the legal process.
The funeral was conducted in secrecy and under heavy police guard, with the media abiding by a collective decision to stay away. Demonstrations calling for reforms and the execution of the six men detained for the attack continued in Delhi and other major cities, as they have done every day for nearly two weeks.
Despite a major security operation that has kept mourners and protesters away from the centre of the capital, there were some clashes on Sunday afternoon. Local newspapers said more than 18,000 police had been deployed, nearly a quarter of the Delhi force's total strength.
India has been plunged into an extraordinary bout of self-analysis following the woman's death. The media has given blanket coverage of the attack, which took place on a moving bus in south Delhi on 16 December.
All of Sunday's front pages and news bulletins were devoted to the incident and its aftermath. High profile new year parties in the capital and elsewhere have been cancelled. Bollywood stars have expressed their shame and anger. One of the biggest, Shahrukh Khan, posted on Twitter: "Rape embodies sexuality as our culture and society has defined it.
I am so sorry that I am a part of this society and culture
."
The new interest in sexual crimes has led to reports that would have struggled to make it on air or into newspapers in the normal frenzied India news cycle, where often sensationalist TV channels compete ruthlessly. One major newspaper ran a list of sexual crimes against women that have taken place during the ongoing battle between security forces and Maoist guerillas in the centre of the country. Headlined "
Women suffer big in India's state vs rebels war
", it held both sides responsible.Over the past 24 hours other reported incidents have included women attempting to take their own lives after being gang raped, the attempted murder of a rape victim in Rajasthan and an infant dying after a rape in Gujerat. In West Bengal a woman
was reportedly raped by three hospital workers
after seeking treatment for her baby. A woman was also allegedly assaulted on a bus in Delhi. One man was arrested.
India's courts have a backlog of hundreds of thousands of cases, which would take decades to clear if all were heard. Facilities for forensic analysis are few and poorly-equipped. Healthcare in many of the rural areas where assaults are endemic is often rudimentary. The UN has offered to help India "strengthen critical services for rape victims" with technical expertise and other support as required," Ban said. The problem is, however, enormously complex. For example, women in rural India are rendered more vulnerable because a lack of sanitation facilities forces them to defecate in woods or fields after dark.
Dasgupta said the affair had laid bare the gulf between India's political elite and younger voters. "There's a big demographic factor that we are beginning to see. How parties react to it will determine their political future," he said.
Priyamvada Gopal, page 24